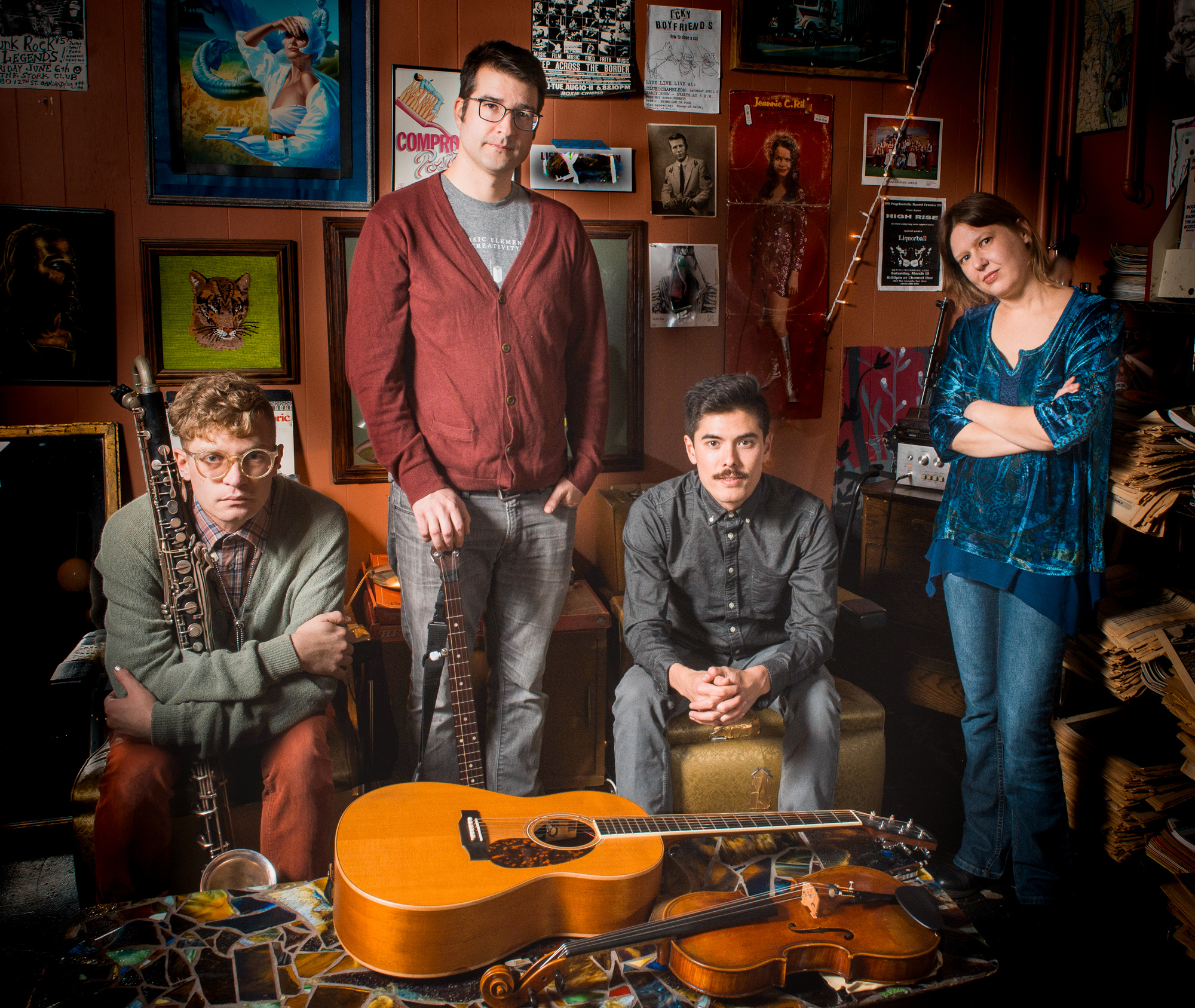 Photo by Chad Lanning
Little One blends Americana, jazz, and chamber music through original works that aren't afraid to share closely-held truths. The group's first recording features songs dedicated to bandleader Douglas Detrick's family—it is the most personal project he's ever tackled, in a long line of intimate work. The quartet's unconventional instrumentation—Detrick on clawhammer banjo, voice, and trumpet, William Seiji Marsh on guitar, Lauren Elledge on viola, and Andy Rayborn on bass clarinet—gives the group a unique ability to access sounds that no other group can.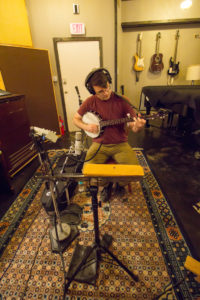 Douglas Detrick, banjo, trumpet, vocals
Douglas Detrick's sound is marked by the quiet vulnerability of his deeply personal narratives. Having grown up in classical and jazz music, Little One is Detrick's first band playing original songs that feature him on banjo and vocals. Previously, he has co-written the song cycle Boldly Launched Upon the Deep inspired by Herman Melville's MobyDick, received a 2011 Chamber Music America New Jazz Works Grant to compose and perform Bright and Rushing World with his AnyWhen Ensemble, appeared at the Stone, Phillips Collection, Jazz Gallery, and Issue Project Room, performed new music by Christian Wolff with the composer and the Merce Cunningham Dance Company at its farewell performance at the Park Avenue Armory, and joined the curatorial team of Dave Douglas' Festival of New Trumpet Music. A songwriter, composer, multi-instrumentalist, and writer, Detrick currently serves as the executive director and trumpeter of the Portland Jazz Composers Ensemble in Portland, Oregon.
Lauren Elledge, viola
Lauren Elledge is a member of the Eugene and Newport Symphonies, Oregon Mozart Players, and a frequent guest of the Modesto Symphony. A performer throughout the Northwest, she has played with the Sacramento, Napa, Vallejo, Monterey, and Berkeley symphonies among others. Her summer festivals include Sunriver, Astoria, Newport, Crested Butte, and Spoleto USA. Elledge holds an M.M. from the San Francisco Conservatory of Music and a B.M. from the University of North Texas, both in viola performance. An experienced chamber, jazz, and rock musician, Lauren loves working in the recording studio and can be heard on numerous albums and soundtracks.
William Seiji "Bill" Marsh, guitar
Over the past decade, William Seiji Marsh has contributed his guitar skills to many of the Pacific Northwest's up-and-coming and staple artists.  From his work with Portland's indie-rock favorites, Lost Lander, to the formative experience of touring the United States, Europe and Australia with platinum-record-selling swing/rock outfit Cherry Poppin' Daddies, to playing sold-out shows in Tokyo, Seoul, and Macau with Billboard-topping songwriter and chanteuse Halie Loren, William has had numerous and diverse opportunities that have instilled in him a versatile and intuitive musical instinct.  William currently performs with guitarist/singer/songwriter Edna Vazquez, as well as working as a sideman in the Portland area.  He is an adjunct instructor of guitar at Reed College and Willamette University and maintains a private lesson studio at the Falcon Art Community in North Portland.
Andy Rayborn, bass clarinet
Multi-instrumentalist and Boise, Idaho native, Andy Rayborn, lives in Portland, Oregon where he performs music for solo bass clarinet and electronics as Paper Gates. Rayborn is a member of the groups Kulululu, Bryson Cone, and Baby and the Pearl Blowers. He has also appeared as a guest artist with Devy Metal, Oro Azoro, Jake William Capistran, and Golden Retriever. 
Photos by Benjamin Kaufman.